By Development Communication Section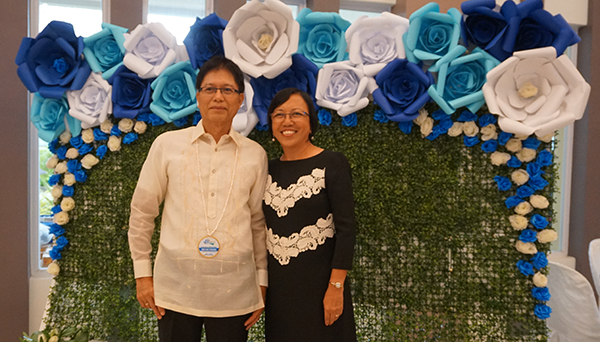 After almost 33 years in service at SEAFDEC/AQD, scientist Dr. Maria Lourdes Aralar is still on the go with many things lined up for her even after she retired last 14 February 2019.
Dr. Aralar continues to be busy taking part in meetings and summits. She also continues to serve as SEAFDEC/AQD resource person for giant freshwater prawn training courses and as a reviewer/evaluator for research proposals at some government institutions.
Dr. Aralar is also busy doing eel project-related activities under the Japan-ASEAN Integration Fund (JAIF). She is currently helping organize the international eel workshop slated in April and finalizing an eel manual.
Prior to her retirement, Dr. Aralar served as Program Leader of the Maintaining Environmental Integrity Through Responsible Aquaculture and Station Head of the Binangonan Freshwater Station (BFS).
"BFS owes a lot from Doc Malou for years that she has ably steered the station, to where it is now in spite the odds," shared fellow scientist Dr. Maria Rowena Eguia.
From her base at BFS, Dr. Aralar churned out over 30 publications in different peer reviewed national and international journals, mostly on lake ecology and biodiversity. She also contributed to the development of giant freshwater prawn farming for which she has authored two manuals. When asked about her advice to young researchers at SEAFDEC/AQD, Dr. Aralar said that they should be open to new ideas and explore different directions early on in their career. "It is through this that you will truly find your passion so your science will not be just a job but something to find pleasure in," she said.
She also advised that it is also important for young researchers to be able to express themselves well and share their ideas since science is meaningless if not communicated properly to the right audience, not only in scientific publications but in general, everyday situations.
Having worked at SEAFDEC/AQD for more than three decades, Dr. Aralar is extremely grateful for her years at the institution for the personal and professional opportunities it has offered her. "My professional growth was due mainly to the nurturing environment SEAFDEC/AQD provided," she said.
She hopes that SEAFDEC/AQD will continue to grow as a well-respected and recognized institution, foremost in its field. "Future-proofing is one term I learned from my son and I think the people at SEAFDEC/AQD should think about how to go about this to keep the institution relevant in the years to come," advised Dr. Aralar.
Dr. Aralar said that she is still keeping her options open for her eventual retirement plans. "I was advised by my daughter to take it easy for at least six months before I decide what to do and I think that is sound advice," said Dr. Aralar. In the meantime, she looks forward to spending time with her grandson.