By Development Communication Section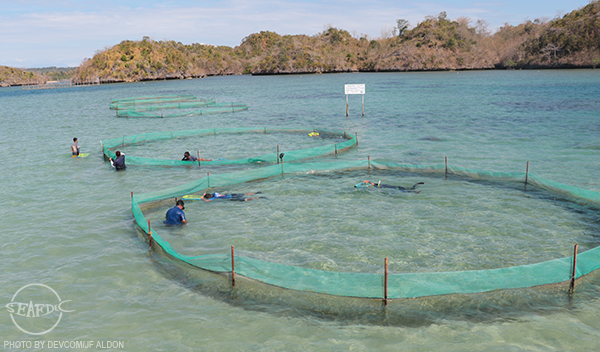 Aiming to start a small-scale commercial sandfish hatchery, three Fijians searched the world over and found the platform they needed for learning the culture of the prized commodity at SEAFDEC/AQD in Iloilo, Philippines.
"We scan around the globe to see which among the institutions that can provide us the needed information and the skills required for us to succeed in our ventures. So we selected to attend the SEAFDEC/AQD training program…" said Solomoni Suguta, one of the trainees from Fiji.
He shared their high hopes that the "baskets" of expectations they brought will be filled when they return to their respective countries.
"Indeed, our baskets were full with the 16-day training. Thank you so much [to] all the technical team for the practical skills, the lectures, the theories… we are so privileged to be attending the course," said Suguta.
The trainees from Fiji, together with other participants from Papua New Guinea (1), and the Philippines (2), attended SEAFDEC/AQD's 16-day training course titled "Sandfish (Holothuria scabra) Seed Production, Nursery and Management" held at Tigbauan Main Station in Iloilo, Philippines on 25 March-8 April 2019.
The training course covered lectures and practical activities on natural food culture, sandfish spawning induction, and larval rearing. The course also included field tours to nursery culture sites and sandfish sea ranching sites. Grow-out culture and sandfish processing were taken up as well during the course.