By Development Communication Section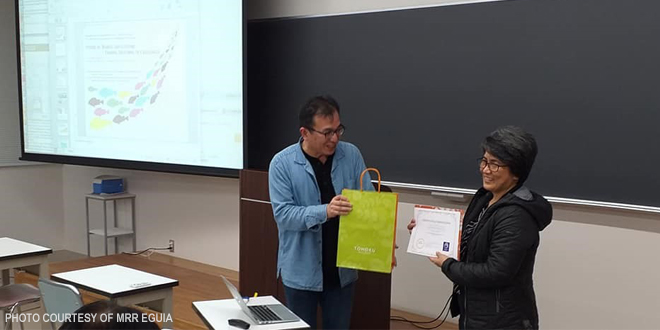 SENDAI, Japan – Dr. Maria Rowena Eguia, scientist of SEAFDEC Aquaculture Department, reported on the genetic research initiatives being done in the Philippines towards sustainable aquaculture at the 16th International Symposium on Integrated Field Science in Tohoku University last 22 March 2019.
Her paper highlighted the local genetic applications for commodities such as tilapia, mangrove crab, shrimp, milkfish and abalone. She likewise discussed the significance of genetic interventions to boost and sustain aquaculture production.
According to her presentation, the production of fish in recent years had declined mainly due to lack of quality seedstocks, limited stocks of captive breeders or spawners, adverse effects of climate change and other environmental factors, fish diseases, and prohibitive cost of aquaculture inputs such as feeds.
Dr. Eguia cited that genetic researches in the Philippines were conducted, mainly through local grants, with the goal of addressing these constraints. Such initiatives focused on developing and applying methods in selective breeding; marker-assisted genetic strain assessment for broodstock development and for monitoring of inbreeding in farmed stocks; and genomics to enhance on-farm stock performance through the identification of genes that are responsible for nutrition, stress and immune responses, among others.
Dr. Eguia was one of the seven speakers who presented during the symposium.