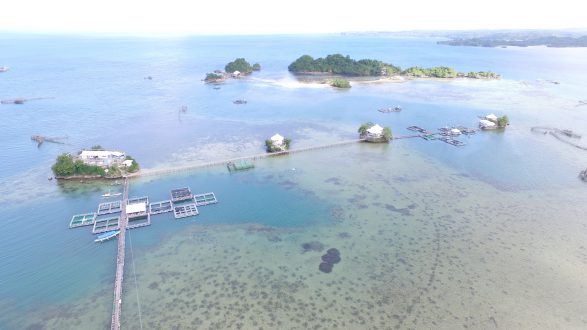 The Igang Marine Station (IMS) of SEAFDEC Aquaculture Department (SEAFDEC/AQD) is located on the southwest portion of Guimaras Island in the Philippines. IMS is composed of four islets and clusters of floating fish cages interconnected by floating foot bridges. The station maintains hundreds of broodstock of various commercially important species that provide eggs for research and production runs.
---
History and mandate
The station was established in 1974 primarily for studies on the breeding of tiger shrimp in pens. The major breakthroughs of SEAFDEC/AQD were the completion of the life cycle of tiger shrimp in captivity in 1975 and of milkfish in 1983.
New hatchery technologies have been developed for fry production of high-value species such as grouper, seabass, snapper, and pompano to cater to the needs of fish farmers.
The station also stocks abalone and sandfish for studies to improve their culture in sea cages. In addition, nearly 200 giant clams were released around the station to replenish natural stocks.
---
Facilities
To support research and training activities, the station has an office, staff quarters, and fully-furnished guest house for visitors and tourists.
IMS is host to a mariculture park demonstration and training facility that serves as a model in promotion of a sustainable mariculture technology for marginal fishers. The fully-equipped mariculture park also caters entrepreneurs who are interested to invest in aquaculture. Click for more info here.
---
Services
Studies on the area's carrying capacity have been conducted and water quality monitoring is done regularly to ensure that the station's activities do not pollute the environment.
The station also provides technical assistance and hosts training for fish farmers, technicians, government personnel, and students. Livelihood projects have likewise been successful for fisherfolk from nearby communities. To date four fisherfolk associations from the barangays of Igang, Magamay, San Antonio and Sto. Domingo are some of the locators in the mariculture park.
---
Video
---
Tour Igang Marine Station in Street View