Libraries might be closed physically due to the COVID-19 pandemic, but if you have access to the internet, you can still find your next read as one digital library made thousands of publications on aquaculture and fisheries technologies accessible to users all over the world.
SEAFDEC/AQD has given the public unrestricted access to over 1,800 publications, including full-text digitized books, extension manuals, conference proceedings, annual reports, and other materials authored by the organization's scientists and researchers.
Stephen Alayon, head of the Library and Databanking Services Section that painstakingly digitized and indexed the publications, said that this is part of the institution's initiative to make quality scientific information readily available.
"We believe that information generated from publicly-funded researches should go back to the public, and the public's right to this information must be upheld," Alayon shared in an interview.
The publications are available online through the SEAFDEC/AQD Institutional Repository (SAIR).
Before this initiative, users must send a request to access a title in the library's collection, but with SAIR's open access model, they can immediately download a PDF copy of the digitized publication they wish to read. In fact, a user may already be unknowingly accessing the PDF files through search engine results.
Open access is an international movement to make publications and other data free of financial, legal, or technical barriers to public access.
Since SAIR's establishment in 2011 until May 2021, hosted documents have already been downloaded 4.2 million times by users from all over the world.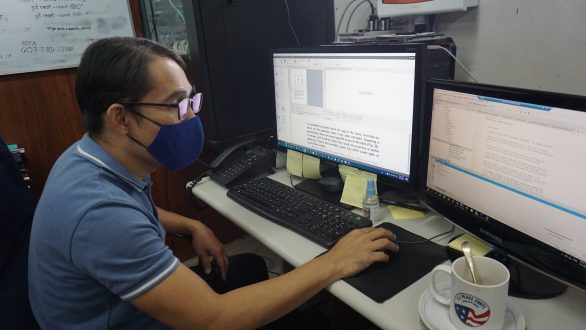 Knowledge haven during the pandemic
The need for openly accessible digital publications was highlighted by the shift to online learning and alternative working arrangements brought about by the onset of the COVID-19 pandemic in 2020.
"Searches performed on the site in 2020 jumped over 147 percent to 224,524 compared to 91,057 in 2019, while unique visitors jumped 903 percent to 773,777 from just 77,147," said Dr. Edgar Amar, SEAFDEC/AQD Training and Information Division head. He added that students and members of the academe make up a large part of SAIR's user base, along with researchers, fish farmers, and employees from both government and private sectors.
"We made even more of our aquaculture manuals readily available during this pandemic to help fisheries schools, and to empower our fish farmers with the science-based procedures detailed by our scientists and researchers in these books," remarked Dan Baliao, chief of SEAFDEC/AQD.
Baliao says that because face-to-face training sessions and farm visits were very limited, making the publications available over the internet was "the least that SEAFDEC/AQD could do."
"SEAFDEC/AQD and its member countries pour substantial effort, time, and funds to produce these manuals and books that are painstakingly written by our scientists and researchers. It only makes sense that we maximize their use by making sure they reach as many extension workers and farmers possible," stated Rex Delsar Dianala, officer-in-charge of SEAFDEC/AQD's Development Communication section.
"What we really want to happen is for as many people as possible to benefit from our research here at SEAFDEC/AQD. If the whole world has unimpeded access to our research-based books and manuals, we will have done most of our part," Dianala further underscored.
Savings for readers
SEAFDEC/AQD launched Free Access Fridays through the Facebook platform, recently, where a curated collection of the organization's best open access titles is promoted including farmer-oriented manuals on the farming of tilapia, shrimp, seaweed, catfish, and bighead carp.
Some titles have been long out of print, including the much-requested "Handbook of Mangroves in the Philippines – Panay," authored by Dr. Jurgenne Primavera, a native tree advocate and scientist emerita of SEAFDEC/AQD, along with Dr. Rex Sadaba, Dr. Junemie Lebata-Ramos, and Dr. Jon Altamirano.
"Among so many books I've written, this is probably my favorite – for the endless but happy days in the field, and sleepless nights my co-authors spent doing the metrics of countless leaves, flowers, fruits – and also the No. 1 bestseller. Except that it has long been out of print," Dr. Primavera shared on her Facebook.
She thanked SEAFDEC/AQD for making a digital copy available online which, she says, saves readers from the US$100 cost currently being charged by foreign book resellers for original prints. /JR PAGADOR