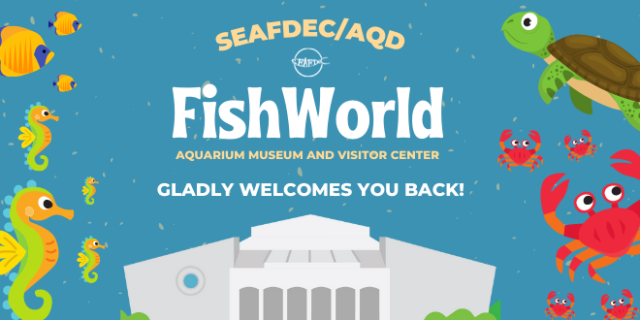 SEAFDEC/AQD's aquarium museum and visitor center, FishWorld, will reopen on 6 December 2021.
For those interested to visit, please refer to the guidelines below.
MUSEUM SCHEDULE
Mondays – Fridays
8 am to 5 pm (Cut-off 11 am and 4 pm)
Strictly by appointment only, walk-in visitors will not be accepted.
Requirement for visitors with an appointment
A maximum of five persons per group is allowed.
Present vaccination card/certificate and valid ID upon entry.
Visitors under 18 years old should be accompanied by a fully-vaccinated adult.
To keep everyone safe, the following health protocols must be observed:
Strictly no mask, no entry.
A temperature check will be taken at the entrance of the museum. Only visitors with a temperature of 37.5°C or below will be allowed to enter.
All visitors are required to fill out a Health Declaration Form upon entry.
Physical distancing of at least 2 meters must be observed at all times.
Only 20 guests at any one time may enter the museum.
For bookings, please call  (033) 330 7032 or 09778400137 and look for Ms. Hananiah Sollesta-Pitogo or go to this link https://www.facebook.com/seafdecaqdfishworld/services/.