More oysters and crabs may soon be spawning and growing in Mindanao aquafarms once a recently-inked partnership between the Mindanao Development Authority (MinDA) and an international aquaculture research center gains traction.
Aiming to establish hatcheries to produce seeds and accelerate aquaculture development in the Philippines' second largest island, MinDA formalized a three-year partnership with the Southeast Asian Fisheries Development Aquaculture Department (SEAFDEC/AQD) on 6 Sept. 2021.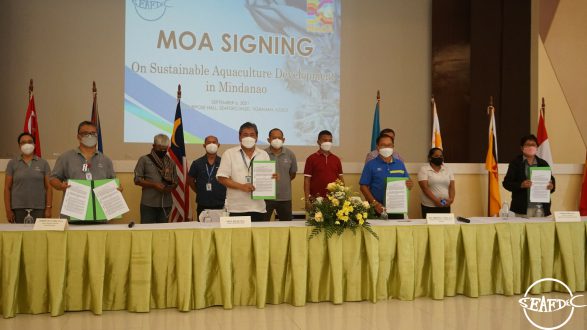 "Let us build a facility that will just keep producing fingerlings, and for the next five years, why don't we support our fisherfolk with fingerlings, free for the next five years," said MinDA Chair Emmanuel Piñol in English and Hiligaynon as he shared his dream to build a truly modern hatchery in Mindanao.
Piñol toured the aquaculture facilities of SEAFDEC/AQD at its headquarters in Tigbauan, Iloilo, and thereafter signed a Memorandum of Agreement with its Chief, Dan Baliao, to collaborate through techno-transfer programs, including verification and training in broodstock, hatchery, nursery, and grow-out operations of commercially viable finfishes, crustaceans, mollusks, and seaweeds.
"Let us start with the simple oyster breeding facility, and then from there we move on to crabs, we move on to high-value fish, and hopefully as we move forward, we will be able to find enough funding support to build that envisioned hatchery that I have for Mindanao," Piñol said.
Zamboanga Sibugay to host first hatchery
Visiting the research center with Piñol was Roberto Ballon, a recipient of the 2021 Ramon Magsaysay award and a fisherfolk leader in Zamboanga Sibugay where the first hatchery for oysters is intended to be established.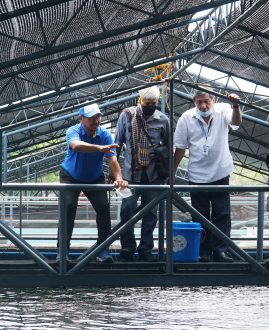 In July, Ballon sought Piñol's help to establish a hatchery in their town of Kabasalan to supply oyster spat, crablets, and fingerlings so the fisherfolk will not need to collect stocks from the wild and disturb the ecological balance.
The fisherfolk association that Ballon leads currently has fish cages, crab farms, and oyster gardens at the mouth of Kabasalan River.
Baliao supported Piñol's vision and agreed to provide technical assistance to the local government units and fisherfolk associations identified by MinDA. Chief Baliao also assured Piñol that SEAFDEC/AQD would grant his requests for the success of this project.
Despite the COVID-19 restrictions, Baliao said the research center will immediately meet its commodity leaders and find means to conduct trainings in Mindanao beginning at Kabasalan.
Dr. Leobert de la Peña, head of the Research Division of SEAFDEC/AQD, expressed support for the project and said that SEAFDEC/AQD is willing to share its expertise and technical capabilities to make the collaboration successful. /RH LEDESMA