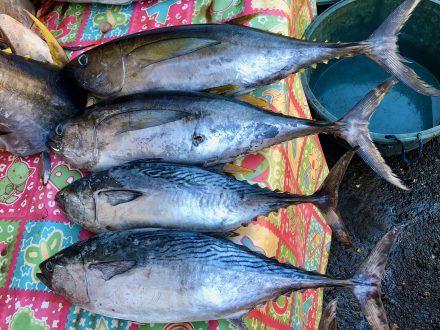 By JM de la Cruz
Japanese technology on farming mackerel tuna, locally known as tulingan, is set to be adopted in the Philippines with a Japanese researcher already procuring breeders to establish a hatchery in Iloilo.
Experimental runs on hatchery and grow-out will be conducted beginning this year through a Japanese-funded project and are expected to perform well given the tropical climate in the Philippines.
"The Philippines has the optimum condition for rearing mackerel tuna as it requires 20 to 28 degrees Celsius of water temperature to achieve rapid growth," shared Dr. Koh-ichiro Mori, Deputy Chief of the Southeast Asian Fisheries Development Center Aquaculture Department (SEAFDEC/AQD) based in Tigbauan, Iloilo.
"Compared to Japan, the seedstocks here will grow to the market size of 2.5 kilograms within only six months," said Mori who is also leader of the project.
Mori and his team are in the process of procuring wild mackerel tuna around the west coast of Panay Island to start breeding the fish, also known as kawakawa.
"We have identified Antique and Iloilo as top potential suppliers of breeders which makes it easier for fish farmers surrounding these two provinces to start culturing the commodity," Mori said.
After breeding the tuna for one or two years, he said they hope to carry out seed production in 2021 or 2022 and achieve "full cycle aquaculture" in the Philippines with eggs from hatchery-bred breeders ideally hatching by 2023 or 2024.
After the technologies are adapted to local conditions, the information will be packaged and disseminated to local fish farmers by SEAFDEC/AQD.
Practical species to farm
Mackerel tuna has a comparable taste with bluefin tuna, a highly prized fish, and is becoming popular in Japan as sashimi and ingredient for sushi costing around JPY 3,500 (approximately Php 1,600) per kilo.
According to Mori, mackerel tuna (Euthynnus affinis) is more practical to farm compared to yellowfin tuna, another popular tuna species.
"Yellowfin tuna grows larger compared to mackerel. It requires bigger cages and consumes a bigger quantity of feeds which would be difficult on the part of small-scale farmers," he explained.
Mori says that to farm mackerel tuna, small-scale fish farmers may already use small cages that are around 10 square meters for grow out.
Dan Baliao, chief of SEAFDEC/AQD, hailed the five-year project (2020-2024) which is supported by the Government of Japan Trust Fund.
"The best way for Japan to extend help in the Philippines is to share its successful technologies tailored to the country's conditions. Through SEAFDEC/AQD, it can be achieved," he said.