Dr. Koh-ichiro Mori wrapped up his stint as the outgoing Deputy Chief of the Southeast Asian Fisheries Development Center/Aquaculture Department (SEAFDEC/AQD).
"I've only been here for two years and three months but there is so much that I will miss," he said in his farewell message. "… I would also like to express my deepest appreciation for your support and cooperation for the last two years. It has been a pleasure working with you."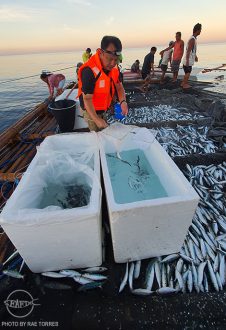 During his brief stay with the organization, Dr. Mori spearheaded new research projects at SEAFDEC/AQD which were supported by the Government of Japan Trust Fund (GOJ-TF).
"I'd like to thank Dr. Mori for spearheading the projects on mackerel tuna (kawakawa), round scad (galunggong), lobster and his other contributions in terms of research," said Dr. Leobert de la Peña, Head of SEAFDEC/AQD's Research Division.
Continued production of information on aquatic health management through research was also made possible. Some of these studies included the development of improved diagnostic techniques in identifying diseases as well as setting countermeasures against parasites in aquatic species. In turn, results from these discoveries are disseminated through trainings and capacity-building projects on sustainable aquaculture were also pursued.
"Dr. Mori, you're a good friend of AQD and you've also facilitated support not only from the Government of Japan, but from other Japanese agencies as well, like JICA and JIRCAS," Dr. Edgar Amar, Head of the Training and Information Division, said in a message.
Pioneer research project on tuna farming
One particular project that Dr. Mori personally worked on was about the adaptation of Japanese farming technologies to rear mackerel tuna (Euthynnus affinis) in the Philippines.
"Tuna has many kinds of species here [in the Philippines], but we only targeted mackerel tuna." He explained. "It isn't very large when it grows, so even small fishermen can rear this fish easily using small cages."
Dr. Mori and his team are in the process of procuring wild tuna fry from various locations in the west coast of Panay Island. In particular, his team targeted Antique and Iloilo as potential sources for breeders of mackerel tuna—locally known as kawakawa.
Furthermore, he stated that the Philippines provided optimal conditions for the rearing of the species because of the country's water temperatures. Mackerel tuna grow rapidly and thrive in temperatures of 20 to 28 degrees Celsius.
Dr. Mori hopes to begin seed production by 2021 or 2022, and achieve "full cycle aquaculture" in the Philippines once these eggs hatch by 2023 or 2024. Once the project specifics are tailored for local conditions, Dr. Mori aspires to disseminate information packages to local fish farmers in the Philippines.
Research training for high school teachers
Additionally, Dr. Mori has also allocated funding support towards the technical writing training and research methodology workshops for selected high school teachers in Iloilo with the aim of enhancing these teachers' capacity to be able to conduct doable and simple research proposals.
Over the course of a 3-day workshop, these teachers attended lectures and augmented their learning through various practical exercises on the research and development process, experimental design, data and statistical analysis, scientific literature and patent searches, as well as technical writing for publication in scientific journals.
SEAFDEC/AQD Chief Dan Baliao commended this effort, hailing this as one of the legacies that shaped Dr. Mori's term.
"Well, Dr. Mori, I would like to tell you that you have left a legacy in AQD. It's only during your term when you spent some amount for some training in research and methodology for our (high school) teachers," he remarked. "I used to speak before these people during their culmination and they are so happy about it."
Furthermore, he also expressed his gratitude towards Dr. Mori for the continued support to AQD and its constituents.
"You have supported SEAFDEC and our activities and operations, and for that, our budget has never been stopped and kept on increasing," the Chief said. "Dr. Mori, in the future or one of these days, please try your best to come back again. We want to see you again soon and we wish you the best of luck."  (DEVCOM/JRP)