Seaweed farming, a multi-million dollar export industry in the Philippines, is at the centerpiece of a worldwide effort by scientists to better address the outbreak of diseases and pests that are plaguing the farms.
With an estimated 116,000 families in the country reliant on seaweed farming, SEAFDEC/AQD as part of the UK Research and Innovation (UKRI) – Global Challenge Research Fund (GCRF) GlobalSeaweedStar Project, is working to better understand outbreaks of "ice-ice" disease and epiphyte infestations in farms which have inflicted losses worth as much as 15 percent of the total seaweed production.
According to Joseph Faisan, Jr. an associate researcher at SEAFDEC/AQD, "ice-ice" disease (IID) outbreaks are caused by extreme environmental conditions (temperature, salinity, pH, siltation) and are characterized by the whitening of the seaweed branches, leading to disintegration and decay. Meanwhile, epiphytic filamentous algae (EFA) are algae that attach to seaweeds and penetrate their inner layers, resulting in damage and disease.
The concern is further emphasized because seaweed is the Philippines' top aquaculture commodity by volume, according to the Philippine Fisheries Profile published by the Bureau of Fisheries and Aquatic Resources in 2018. For that year, 1.5 million metric tons, mainly of the seaweeds Kappaphycus and Eucheuma, comprised 64 percent of the total volume of aquaculture production in the country.
Kappaphycus is a source of carrageenan, an additive in food and drinks that serves as thickener, emulsifier, and preservative. Carrageenan is also used in toothpaste, skin care and hair care products, shaving cream, sunscreen, and even makeup.
Disease and pest problems
In the Philippines, farmed species of seaweeds like Kappaphycus alvarezii (locally known as guso or tambalang), K. striatus (locally known as katunay or flower), and Eucheuma denticulatum (locally known as milyon-milyon or spinosum) remain highly vulnerable to these threats.
"Like humans who are prone to sickness when stressed, seaweeds can also contract these illnesses and pests," explained Faisan, who, with colleagues at the University of the Philippines Visayas and United Kingdom partner institutions including the National History Museum, Scottish Association for Marine Science (SAMS) and Centre for Environment, Fisheries and Aquaculture Science (Cefas), are developing methods and tools to detect and diagnose diseases and pests that limit seaweed production yields.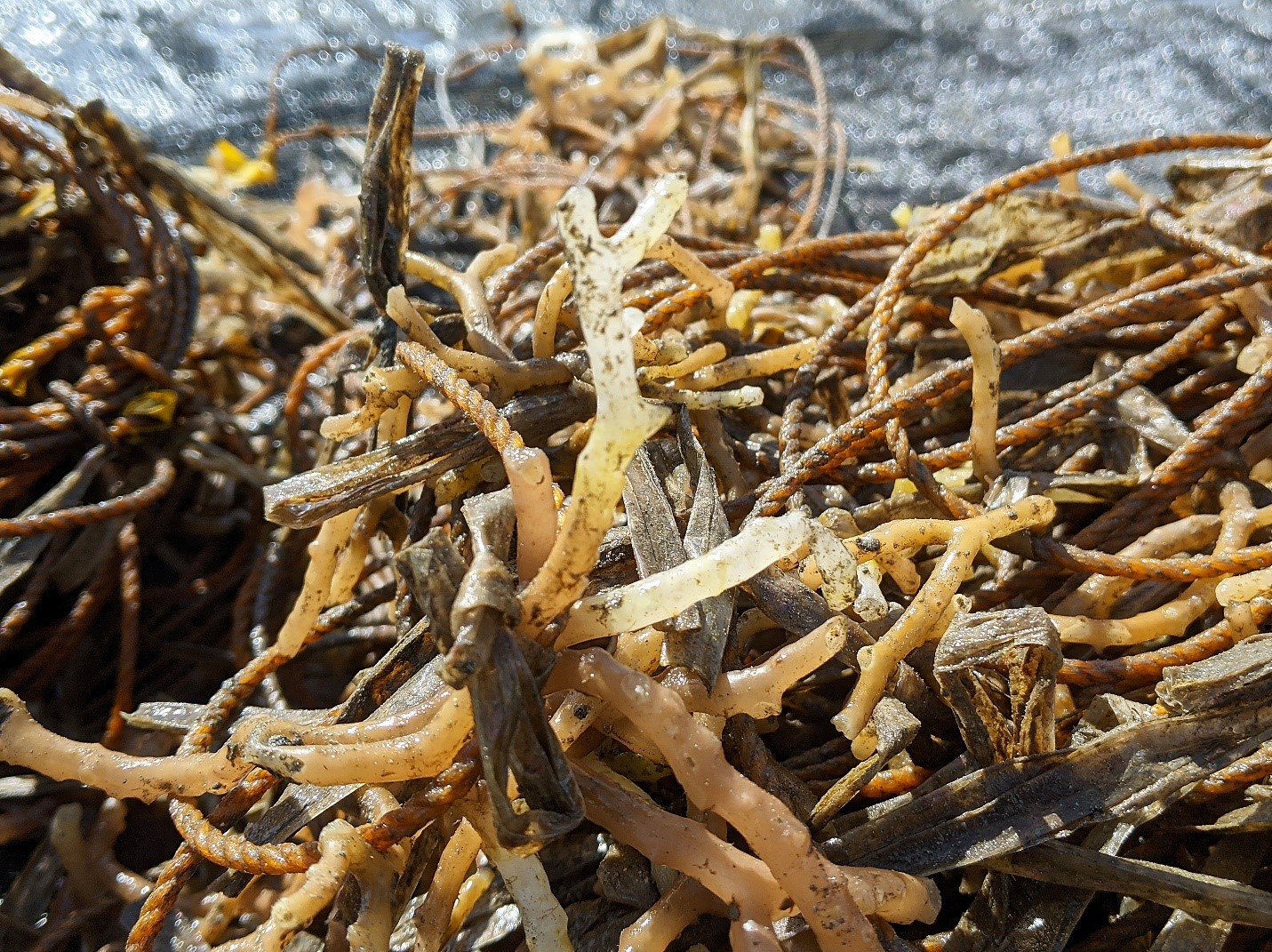 They collected and examined seaweed samples from 16 farming sites in the Philippines, namely: Bohol, Davao del Norte, Zamboanga City, Tawi-Tawi, and Palawan.
The team used histology and electron microscopy to diagnose diseases and pests before using Polymerase Chain Reaction (PCR) to confirm the presence of EFA by detecting their DNA.
After examining the samples, Faisan said that they forwarded the results to the United Kingdom partners of the project to be added to the planned open-access, Digital Atlas of Anatomy and Pathology of Seaweeds (DAPS) and the Seaweed Holobiome Data Repository (SHoRE).
Working on the Bigger Picture
Faisan said their findings will be integrated with those of other researchers doing work on policies, genetics, and socio-economics, to conduct a Sharing Best Practices (SBP) event in key seaweed growing areas around the country wherein among other strategies, brochures and information about seaweeds will also be produced and distributed.
"The end-goal is to provide free access to reference materials on farm management and biosecurity measures to include pest and disease infestation, stock improvement, and risk managements of the seaweed industry of the Philippines to everyone and promote information dissemination in the scientific community as well," emphasized Faisan.
SEAFDEC/AQD Research Division Head Dr. Leobert dela Peña stressed that "interventions such as the use of prophylactics should also be developed to reduce the impact of seaweed pests and diseases should they eventually make their way into farming sites despite  biosecurity measures and risk management."  SEAFDEC/AQD Chief Dan Baliao added that "addressing the disease issue first is critical before we can focus on the expanded production of tissue-culture based plantlets for distribution to farms without access to good quality planting materials."
The Global Seaweed Star project was initiated last 01 October 2017 and funded by UKRI -GCRF. Expected to end by 31 December 2021, the program brings together an international team of experts in science, policy, and economics across the United Kingdom, Philippines, Malaysia, Tanzania, and Canada. /JR PAGADOR