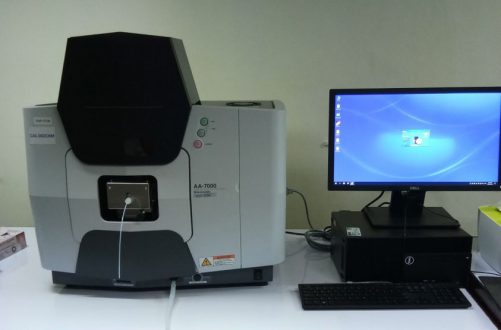 THE LABORATORY Facilities for Advanced Aquaculture Technologies (LFAAT) now has the capability to detect metallic elements in water and animal samples, Laboratory Manager Engr. Margarita Arnaiz announced.
LFAAT recently acquired an atomic absorption spectrophotometer (AAS) that allows the laboratory to determine the presence and concentration of heavy metals and other metallic elements in the culture environment and in aquatic animals.
Engr. Arnaiz said the new instrument will allow researchers to enter studies on the food safety of aquaculture products, particularly on the levels of heavy metal contamination.
The AAS, a Shimadzu AA-7000 model, may also be used for the analysis of river effluent, sludge, airborne dust, semiconductors, ceramics, petroleum, oil, catalysts, chemical products, blood, plants, drugs and food products.
The laboratory's capability to detect E. coli and coliform bacteria also received a boost with the acquisition of instrumentation and its accessories to conduct a Colilert® test. The internationally approved method is specific to E. coli and coliform, simultaneously detecting their presence and quantity within 24 hours.
Lastly, Engr. Arnaiz announced the acquisition of a continuous flow analyzer (CFA), a Skalar SAN++, which now allows LFAAT to measure total ammonia-nitrogen in water samples. The CFA also improves the laboratory's capability to measure ammonia, nitrate and nitrite.
The unveiling of the new LFAAT services was done as part of SEAFDEC/AQD's 46th anniversary activities last 11 July 2019.
The LFAAT operates in support of SEAFDEC/AQD's research projects but also accepts samples from the public. Inquiries for analytical services may be sent to analyses@seafdec.org.ph.