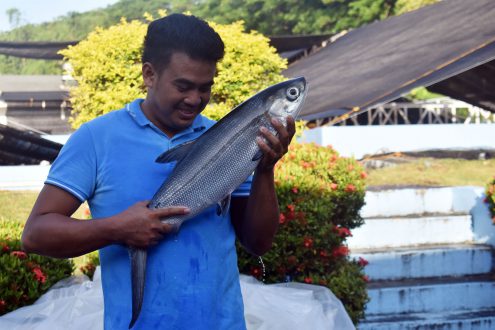 By RD Dianala, J Genilza
SEAFDEC/AQD is stocking up on milkfish breeders, locally called sabalo, as part of the push to reduce the Philippines' reliance on imported milkfish fry.
Forty-nine milkfish, each weighing between 3 to 5 kilograms, were recently acquired for conditioning at the Tigbauan Main Station to augment the stock of breeders used for research projects.
"The Philippines requires about 3.5 billion milkfish fry each year, but local hatcheries can only supply roughly half the demand," said SEAFDEC Aquaculture Department chief Dan Baliao who added that the rest are imported from Indonesia and Taiwan.
To close the gap, SEAFDEC has been building its reserve of breeders and is working with the Bureau of Fisheries and Aquatic Resources (BFAR) to establish multi-species hatcheries around the country, each with a capacity to produce 25 million fry annually.
"It takes time for sabalo to mature, about three to five years wherein they reach at least 3 to 5 kilograms in weight, so we are developing breeders as soon as possible," said Baliao.
Last year, SEAFDEC also acquired 78 milkfish to develop into breeders. In all, more than 300 milkfish breeders are already housed in SEAFDEC Aquaculture Department's headquarters in Tigbauan and Igang Marine Station in Nueva Valencia, Guimaras.
SEAFDEC holds the record for being the first in the world to develop captive milkfish breeders, some of which are still in its care. The oldest sabalo in Tigbauan is over 36 years old, more than 18 kilograms, and still spawning.