by Development Communication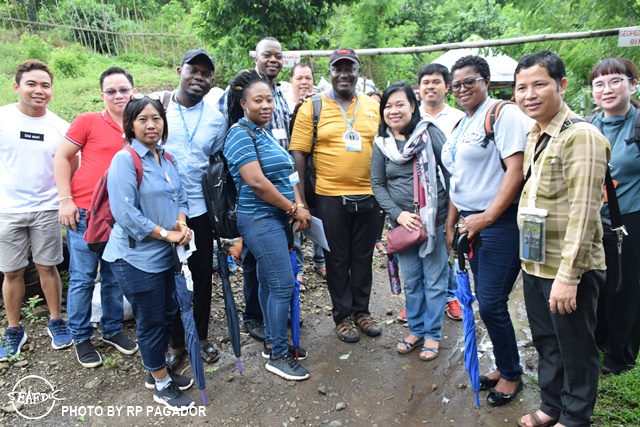 BINANGONAN, Rizal – An international training course on small-scale inland freshwater aquaculture from 5 to 23 August 2019 conducted by SEAFDEC/AQD had its participants voicing out their appreciation of the course and vowing to implement their learning in their home countries.
Ms. Elizabeth Forgako, head of Cameroon's Ministry of Livestock, Fisheries, and Animal Industries and one of the participants, expressed her gratitude for having participated in the courses.
"I consider AQD as a basket of knowledge and I promised to apply all the learnings I gained here to improve fisheries and aquaculture sector in my home country," said Ms. Forgako.
On the other hand, Mr. Kennedy Otieno, sub-county in-charge of Migori County's Directorate of Fisheries Development in Kenya said he will implement what he learned from the courses broodstock management, feed formulation and preparation, fish nutrition, fish health management, and hatchery to grow-out culture techniques of tilapia, bighead carp, catfish and freshwater prawn.
"I really appreciate the knowledge and skills I learned from AQD and I will try my best to implement the action plan in my region," said Mr. Otieno.
Ms. Forgako and Mr. Otieno are two of the eight participants who completed the 20-day training course supported by the Japan International Cooperation Agency (JICA). Other participants were from Benin, Cambodia, Côte d'Ivoire, Ghana, Kenya, Myanmar, and the Philippines.
The small-scale inland freshwater aquaculture course, already on its second year, aimed to promote small-scale freshwater aquaculture especially for rural areas in the Asian and African countries.
Aside from technical lectures and practical exercises, a rapid rural appraisal activity held at Brgy. Navotas in Cardona, Rizal was included in the course where the participants collected and analyzed information from the community about its current inland aquaculture status and practices.
The said rapid rural appraisal activity enabled the participants to gain a deeper understanding of the issues and problems in a small-scale artisanal fishing community in the Philippines. It also provided a learning opportunity for the participants as it enabled them to formulate an action plan for their communities.